(Photo by
Stig Baumeyer
)
This Mercedes-Benz W120 Kombi (=estate/station wagon) found in Norway not only is a remarkably rare car, but also has a very interesting story to tell. But more about that later.
The normal W120 was built 171746 times between 1953 and 1961 and therefore was quite a common car in Europe at that time. Many examples survived, so it's still not too rare. In addition to these sedans though, Mercedes-Benz also built 5667 chassis frames including engine and transmission, which were meant to be converted to special versions of the W120 by other companies (to help your imagination, here is a picture).
(
Source
)
400 of those were exported to South Africa after being turned into pick-ups by Binz.
Some more also went to South Africa, where Morewear Industries converted them to pick-ups.
The remaining chassis stayed in Germany, where different manufacturers turned them into hearses, ambulances and some civil estates.
Only small numbers of hearses were built by Pollmann and Stolle.
Miesen in Bonn mainly built 711 ambulances, but also some hearses.
Most of the rest of the chassis were finished by Binz.
Binz produced a variety of versions, including vans, civil estates (often with a big sunroof by Webasto) and ambulances.
The car in the picture above seems to be such an ambulance by Binz, especially recognizable by the elegant window line which is a result of Binz, unlike Miesen, not using the rear door of the sedan and the roof, which is a bit higher than that of the civil estates.
So, as you see, an extremely rare car ended up rusting away on the streetside here...but did it?
As the photographer points out, the car vanished from where he took the photo shortly after he did. Obviously, someone wanted to save this rarity and brought it to a garage.
However, this garage burnt down a short time later, as you can read
here
. But, as you can see on the pictures and in the video on the news site, the Mercedes miraculously survived the fire.
Here you see one of the pictures of the rescue:
(
Source
)
But not enough with one of these unusual cars being abandoned, here is another Binz-ambulance, apparently from Switzerland:
(
Source
)
As a bonus, here you see the original brochure by Binz: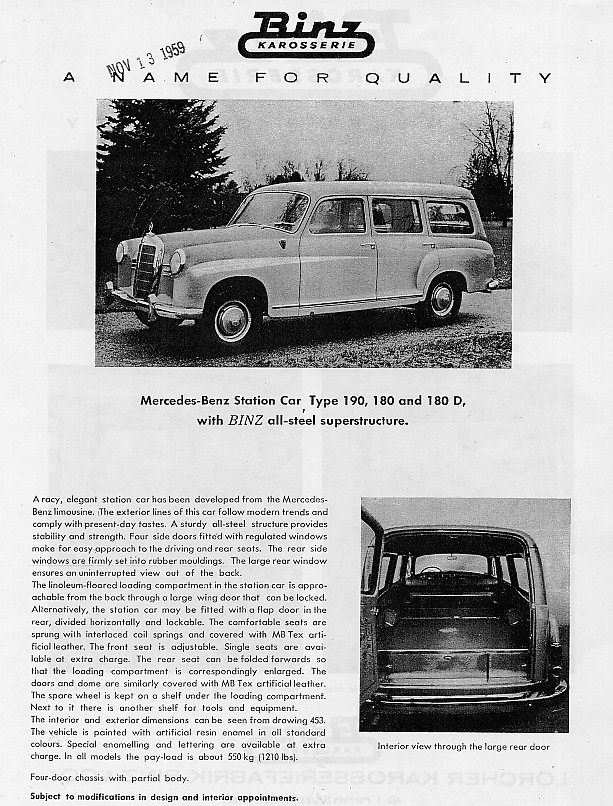 (
Source
)